Guest Blog – Gillian Clifton "January Rubbish Challenge" Week 5
Gillian:
Oh Dear . . . .
Oh dear – what a lousy blogger I am. The month has slipped by and I have barely posted a thing. Well now, it's time for the truth. We failed. We did not get through January without creating any landfill – nowhere near. To start with I broke a mug and a glass. Nowhere for them to go except landfill. Then we had a joint of ham which we had bought in for Christmas. It had a thick wedge of disgusting fat round it which had to go in the bin – wish we'd never bought the damn thing. We half filled the kitchen bin with food waste – you know – scrapings of plates etc. A wormery might be a thing to consider in the future. There were other bits and bops but the rubbish in our wheelie bin only just covers the bottom of said receptacle so at least there has been some improvement I may have mentioned that there were a few bits of plastic!!! Most have been woven (watch this space for the finished product) and the rest we will be taking to the nearest recycling centre that can deal with yogurt pots, cottage cheese tubs etc. City of York council does not. Wake up guys!
 Overall this has been a positive experience and something of a wake up call. Plastic, in one form or another, is everywhere and it will choke the planet. It already is. Recent reports on the levels of plastic in our oceans are shocking.
 As far as Mark and I are concerned we are now fully fledged Plastic Crusaders and the way we shop will certainly be different in the future. I think we will definitely try the Rubbish Challenge again, although maybe not the month after Christmas!
Sam:
Each week there has been another speed bump on the road to success (i.e. zero waste to landfill!) however I hope you can see that it is a learning curve and that small changes can add up to a lot.  In Gillian's case she was still sending much less waste to landfill so whilst she may not have achieved her aims she has made a massive difference and the habits she and Mark keep up will continue to make a difference in years to come.  There is no point to putting pressure on yourself and other people to be the most ethical, the most sustainable. In an ideal world it would be easy to do and we wouldn't even be having these conversations.  What we have to do is be realistic about what we can each achieve and change to ensure the changes made are sustainable.
Hopefully it won't take long for plastics and other inert materials to be relied on a lot less.  However, this blog post is going to focus on positive changes individuals can choose to make to make small, sustainable changes for  a greener future.
Composting or a wormery is a brilliant way to get rid of kitchen/food waste.  I personally had not had any experience of either before I joined St Nicks.  Although I personally don't have the space or even a garden to have a large compost bin I do have a compost caddy (a relatively small lidded container) that I could put my food scraps and such into which I then transport to one of my neighbours who is lucky enough to have both a compost bin and a garden to utilise the compost! In York there is a group who set up a community compost scheme called the "Bishop Hillbillies" where you can take your own food waste to be composted (see https://bishophillbillies.wordpress.com/compost/).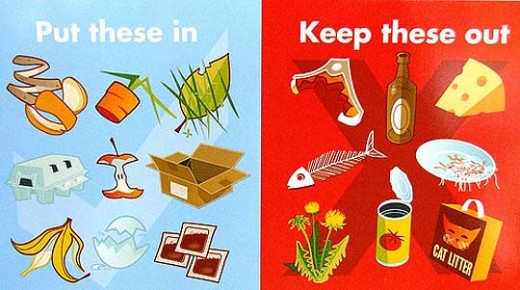 As you can see in the graphic it is simple what can and cannot go into a compost bin.  As an interesting side note there is a company in America that are composting human remains! Have a look at http://www.urbandeathproject.org/ if you are curious…
Gillian mentioned a few weeks ago about more environmentally friendly deodorant balls… I've found bamboo toothbrushes! I may be new to this and possibly the last to know but I think it's brilliant. I haven't been able to find anywhere locally that stocks them (yet!) so unfortunately you'd have to order it via the internet. They seem to retail for around £3 (try the GreenShop,com, SaveSomeGreen.com, BrushwithBamboo.com or even Amazon) and are much more sustainable than the plastic alternatives.  Depending on which brand you choose the bristles can be plant based so the whole thing can go in your compost bin.  Or you can simply reuse the piece of bamboo.
If you would like to reduce your purchase of plastic bottles for things such as washing up liquid, clothes washing detergents or clothing conditioner you can take your own bottles to Alligator on Fishergate (http://www.alligatorwholefoods.com). As well as selling chemical free cleaning products they also stock local produce and wholefood and have an excellent vegetarian range, even bamboo socks!
Something else I haven't in the past thought about when it comes to purchasing is furniture.  If you've ever bought anything from Ikea or Homebase you can see the swathes of plastic and cardboard items come wrapped in.  If however you went to your local charity shops (Community Furniture Store is a local example) you could pick up a bargain and stop something else going to landfill. Never mind the lack of packaging and lower carbon footprint. With the rise in popularity of shabby chic and upcycling you would have an unending supply of furniture that you could really make unique.
Next week Gillian has a look back on the Rubbish Challenge and we'll see which of the things she wrote about were doable on a long term basis.